my name is louisa and i'm from england.
i cry over klaine, crisscolfer, k-pop,k-dramas, anime, paramore, lana del rey and dianna agron's face.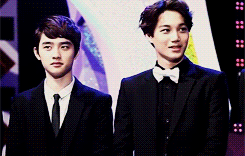 Chris and Darren..love these pics
(Source: qorea)
Darren Criss WIP
You can never convince me crisscolfer has never had sex together not even if they are not dating and have never dated. just not. 
I DARE YOU TO POST YOUR REAL PICTURE 3:)


PROMOTE:
FOLLOW KIM JONG IN ^__^


WANT TO BE PROMOTE NEXT ??
1. FOLLOW ME —-> @ MIAOMIAOCHU ~ @
2. REBLOG THIS
3. MESSAGE ME ^_^
Those moments where you desperately want to say something but your mind just
(Source: wordswordsworlds, via motherstrucker36)